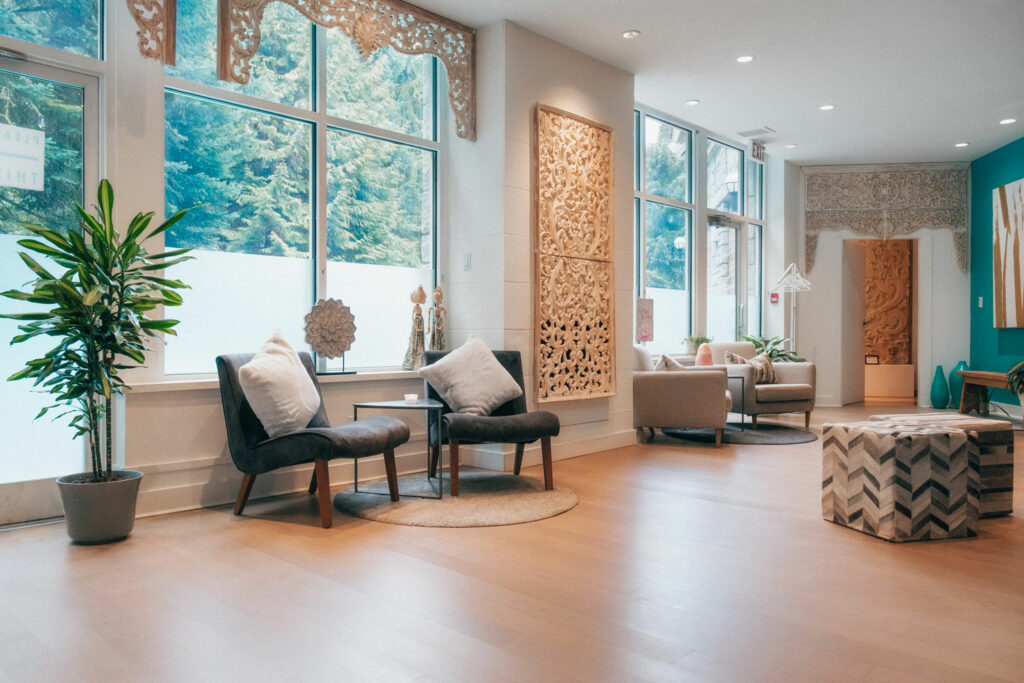 Includes complimentary access to the hot tub, pool and sauna! 
55 Minute Relaxation Massage
Weekdays $109 / Saturday & Sunday $129
Easter Weekend: April 8-10 $139
Subject to availability; please book 24 hours in advance by calling us at 604 938-8882.
Prices do not include tax and gratuity.
The Meaning of the Lotus Spa
The lotus flower begins its journey in deep mud, slowly growing through murky water before breaking through the surface of the pond. There, it finally blossoms — beautiful and whole — under the radiant sun. This unique transformation has made the lotus flower into a cherished symbol across many Eastern religions, by providing a metaphor for the human condition; as human beings, we often triumph over many obstacles before emerging as a resilient whole.
In Buddhism, the lotus flower represents purity, spiritual awakening, and faithfulness. The lotus flower traces a path through muddy waters, yet emerges with clean petals, unsullied by its surroundings. This makes the lotus flower a befitting symbol for both rebirth and purity. In all forms of Buddhism, the lotus is symbolic of the highest spiritual attainment — when Buddha is portrayed in his enlightenment state, he often sits upon an open lotus flower.
The lotus flower holds similar meaning in Hinduism. According to a Hindu creation legend, a golden lotus once arose from primal water, opening up to reveal the gods Brahma, Vishnu, and Shiva at its centre. Hindu belief understands the core of the lotus as a centre of great vitality and power. Similar to Buddhism, Hinduism reveres the lotus's ability to remain unspoiled by the muddy water surrounding it. By rising above the water, the lotus flower enlightens followers to search for enlightenment without being enticed by material temptations (symbolized by the mud).
In all traditions, the lotus flower offers a powerful image. It asks us to remain hopeful that beauty can grow from suffering — that though we might be in the dark about our path as we go through our personal journeys, we will one day blossom under the sun.
Professional Massage Services
Our massage therapists at Lotus Spa are professionally trained with at least one year experience. For a complete experience at Lotus Spa, when you book any treatments with us, you will be given complimentary use of our sauna and pool.
Focusing on the reverse of the body, this treatment relieves tension, improves circulation, and lymphatic flow. Not only will this leave you in a total state of relaxation, but it will also help give your immune system a boost to keep you fit and healthy.

Stress Relive and Relaxation Body Massage

Incorporating techniques found in Swedish massage, this treatment is designed with you in mind and to transport you to your most relaxed state. Our relaxation massage will address your whole body from head to toe with a medium-firm pressure including long strokes, gentle kneading, and rolling of the skin and muscles. Comprehensive relaxation is the name of the game.

Our deep tissue massage is deeper massage therapy with more direct pressure and technic. This treatment provides excellent relief muscle tension and fatigue. Our masseuse will use aromatherapy oils and focus on the tension and sore area. It's the perfect choice when your body is sore and tired.

Benefit from this treatment pregnancy massage: Improves sleep, soothes tired and tense muscles, improve blood and lymph circulation which can reduce swelling(edema), reduce the release of stress hormones.

The mausseuse use long continous and rhythmic strokes concerntrating on encourageing the flow of energy through the body.

Restorative Massage (Semi Deep Tissue)

A relaxation massage with semi deep tissue technique and body stretch to restore your whole body balance. The treatment also helps your blood circulation and release tension. This treatment gives a sound and relaxing mind feel as well.

Body Treatment: Jicama Body Scrub

The body scrub with Jicama combined with sweet orange essential oil. The scrub is followed by an application of hydrating oil to leave you moisturizer and smoothing your skin. Or choice of Papaya body scrub, for a radiant and brighter-looking skin
Advanced booking is required.
Our spa cancellation policy does not apply to online bookings. All online bookings sales are final.
*Conditions: All treatments are subject to availability and change. Offers/promotions cannot be used in conjunction with other offers or promotions. Some restriction may apply. Based on availability.
To ensure the safety of our staff and other guests, if you are sick, showing symptoms, or have been in contact with someone with COVID-19, please contact us as soon as possible and do not visit the spa.
Cancellation Policy: Our spa cancellation policy does not apply to online bookings. All online bookings sales are final. We do not any correspond through email or texts message. Please call to our spa and speak with the agent.